2017 News
"But if Apollo can receive us/into his hands, how can they say that slavery is ordained?" from Writing on the Wall
 "I am the dream and the hope of the slave." Maya Angelou, Still I rise
A collaboration between myself and Anti Slavery Australia is in progress. I have donated my epic poem Writing on the Wall to Anti Slavery Australia to use for a fundraiser. The poem draws from two and half thousand years of slavery; an uplifting imagined story of one slave's journey to freedom. Hosted by Muse Poetica (Anne and my partner Julian Bailey) 
The launch is Thursday 12th October, at the Dax Centre – situated on the ground floor of the Melbourne Brain Centre at 30 Royal Parade in the Kenneth Myer Building of the University of Melbourne. Bookings are through Try Booking.

Launched by Clare O'Neil, Federal Shadow Justice Minister
Introductory artist statement
I am most happy when I am creating.  This takes many forms including finding new forms for stories from the past. In fact, history didn't really come alive for me until I discovered how poets had brought the poetic imagination to history.  Mythology and a study of Jungian psychology – particularly the concept of the mytho-poetic imagination – were other entry points to the past.
Artistic expression is an important aspect of culture-building and a repository for living wisdom.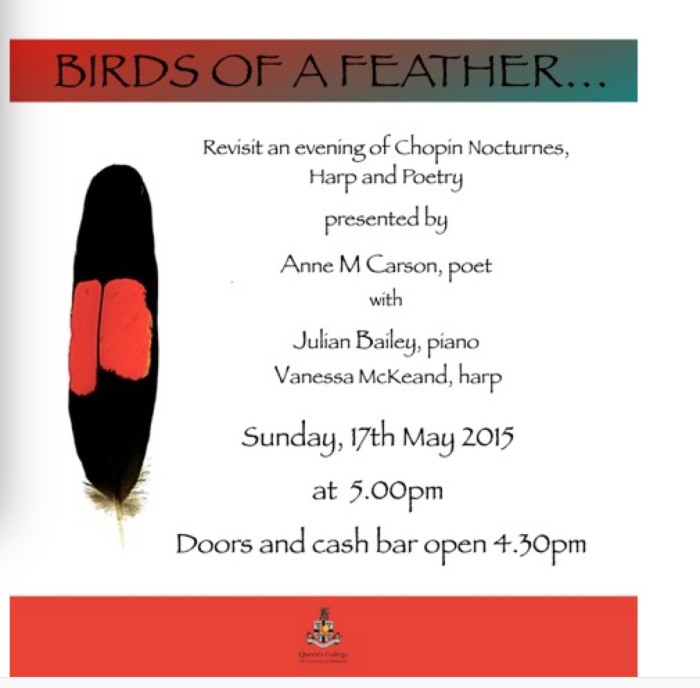 A reprise of Chopin Nocturnes, Harp and Poems presented by:
Julian Bailey (piano), Vanessa Sundstrup (harp) and myself (new and previously published work).
Chopin's pieces are rarely heard in a group, but are widely known as some of the best examples of the expressive work from this 'poet of the piano'. Julian has been playing them for 40 years – which is very poignant when you consider that Chopin himself only lived for 39 years.
Vanessa is a relatively recent Melbourne resident previously from England, France and Oman.  Her work is diverse and warmly communicative and is able to be viewed at YouTube.
Performed in the gracious Junior Common Room at Queens College, Melbourne University. 17th May 2015. Tickets $40 & $30
Inquiries and bookings 0412 310 311 or email *protected email*
The dresser removes the Kimono of Mourning
"Every love story is a potential grief story" Julian Barnes
The dresser removes the Kimono of Mourning is a creative collaboration between three of the oldest art forms – poetry, dance and music.  In a series of ten powerful, poignant poems the audience is taken into the world of love and loss.  The sequence is both unique to this particular couple but also universal.  The poems explore the couple's interaction through their connection to the natural world in original language and moving imagery how one couple's encounter with illness and death deepened the heart.
"Exquisite!" Jen Bray, Organiser, Words in Winter Festival.  The dresser removes the Kimono Of Mourning was performed at the Festival, August 11, in Daylesford.  Photos are available in the Festival Program: http://www.wordsinwinter.com
An essay about the making of The dresser removes the Kimono of Mourning is available at The Blue Corner.
An essay about the performance aspect of poetry is published in Sotto, the on-line journal of Australian Poetry: http://www.australianpoetry.org/sotto-magazine.
There is a YouTube clip of the last sequence of the Daylesford performance available at http://www.youtube.com/watch?v=kmCVpzaRToo .
For further enquiries or to discuss other possible performances email Anne: ua.mo1519344330c.ten1519344330sutpo1519344330@nosr1519344330ac.ma1519344330
Writing on the Wall
Writing on the Wall is a series of 10 narrative poems accompanied by music of the era and was commissioned for Radio National Poetica programme.
After travelling Greece in 2009 I wrote a sequence of poems which grew out of an apparently insignificant detail mentioned in passing by a tour guide at Delphi.  The guide was discussing the engraving of l,000 signatures of former slaves.  They can still be seen on the Slave-wall – a dry-stone wall which has remained standing for over 2000 years despite other structures on the site being reduced to rubble by at lease two massive earthquakes.
The guide said that in those early days it was actually illegal for the slaves to be released unless they were released in the hands of the gods.  That comment sent me on a quest to discover what could have been meant.  I combined my poetic imagination with solid research and produced the poem sequence Writing on the Wall.
An astonishing estimated 27 million people still live in conditions of slavery.  These days slavery takes the form of debt bondage, indentured servitude, serfdom, domestic servants kept in captivity, child soldiers and forced marriage.  Slavery is shameful, soul-destroying fact of 21-century life for tens of millions of people.  In particular people-trafficking in the form of sex-slavery is a booming business.  We need to raise our awareness (and lower our tolerance) of the modern forms of this most ancient of scourges.
http://www.abc.net.au/radionational/programs/poetica/the-writing-on-the-wall/3039310
In Your Shoes: A Programme Celebrating International Day of the Disabled Person.
In Your Shoes was a radio programme commissioned by ABC Radio National's PoeticA and devised to mark international Day of Disabled Persons in 2005
When I worked as a counselor over 20 years ago I was asked to counsel a woman who had an Intellectual Disability.  I knew virtually nothing about this condition and taking her on as a client was the beginning my education into the treatment of people living with an ID in the community.  As a result of that work I became aware of the process of deinstitutionalisation whereby people who had lived their whole lives in institutions were being moved into the community.  Many of these people no longer had family connections.  Their isolation really affected me and prompted me to do what I could to help.  I joined an organisation called Citizen Advocacy and was matched with a protégé.  We have been friends for over 20 years and have grown to be important in each other's lives.  Being an advocate has made me very aware of the continued discrimination and ignorance about people with disabilities.
I initiated the programme idea, chose poems and composed and spoke the linking commentary.  The programme included three of my poems from a longer sequence called 'Praise for the Boy'.
http://www.abc.net.au/radionational/programs/poetica/in-my-shoes/3353094
Soriees
Between 2003and 2007 I ran a series of four-times yearly private soirees with approximately 25 guests combining poetry, prose and music.  The primary purpose of the soirees was to provide an opportunity for primarily non-poets to listen to live poetry.
The 2009 River Soiree was a much larger affair with approximately 75 guests and was held on Herring Island in the Yarra.  The soiree featured a group of leading Melbourne poets who read one of their poems which featured a river and a river poem by another poet.
Café Poet
In 2010 Kew Neighbourhood Learning Centre were successful in being granted funds to run the Café Poet Programme.  The centre was developing as a Centre of Literature and the goal of the project was to raise the profile of poetry in the Centre.   I devised the project to show teachers how to use poetry in their classes, to make links between writers in the Boroondara area and the KNLC.  Expresso chapbook was published as a result of the project.

Pompeii Mosaic
Using the inspiration of a colleague's mosaic of a Pompeii dog, I have written a poem following the fate of a dog through the devastating results of the Pompeii volcanic eruption.
I am open to discussing possibilities for further collaboration between artists and artforms.
Teaching
I have been teaching Poetry Writing and Poetry Appreciation at The Avenue Community Learning Centre for the last few years with a group of enthusiast poetry lovers. I am fortunate to have inherited the Poetry Appreciation course, as it is perhaps the oldest Poetry Appreciation course in Australia, having been in existence for over 20 years.
Previously I worked at the Kew Neighbourhood Learning Centre for seven years from 2005 – 2012 establishing and running the Creative Writing Programme.  This entailed beginners Creative Writing and, in 2012, Advanced Creative Writing, Writing Family History and one-off classes on Poetry Appreciation.
I have also run one-off Poetry Writing and Appreciation workshops at different venues including Watsonia branch of the MPU, Murtoa Literary Festival, Kew Neighbourhood Learning Centre.
In 2013 I conducted a poetry workshop for the New Zealand Poetry Association called Funky, Spunky Love Poetry.
Lectures, Talks, Poetry Readings
There is a wonderful synergy when reading one's poems to an audience: the poem comes alive in one's body, in one's mouth. When it is well received you feel the listening of the audience in a visceral way, a tangible feeling of connection between you and them. Reading my poems live always reconnects me to poetry's aural traditions.
I have enjoyed reading poetry to groups of seniors at a Retirement Village and a Seniors Community Group and am keen to do more of this work.  I was amazed at the participants' memories of poetry they had learnt at school.
I have also been featured and support reader at other venues around Melbourne and in regional Victoria.  I am happy to discuss possible future readings.
Editing and Manuscript Development
I enjoy the challenge of helping other artists develop their distinctive voice.  I have worked with other poets and a visual artist to develop their manuscript.
Essays
The essay format offers the opportunity to expand on a theme and examine it from many different angles.  Whereas poetry is all about compression, a personal essay is about expansion, breathing life into a theme, a personal preoccupation.
My latest essay, Sitting for the Archibald, will be published in the next edition of Gargouille.
An essay on the art of translation, When the bird sings, is published in the September 2013 edition of the French Literary Review.