The story of Dr Felix Kersten is a remarkable story, an archetypal story of the meeting of good and evil. But who is this relatively unknown man?
Dr Felix Kersten was masseur to Heinrich Himmler, one of the most feared high ranking Nazis, head of the Gestapo and the SS. Kersten used his therapeutic expertise gain influence over Himmler, allowing him to secure the release of tens, possibly hundreds of thousands of people. Another, better known hero was Oskar Schindler, responsible for the release of 1,100.
I found the book in an Op Shop 22 years ago and couldn't understand why we didn't know about this man. I wanted to retell his story. Twelve years ago I started writing – in verse. After many breaks – for research, to acquire poetry skills, because life intervened with the death of two people very close to me – I am now finished, and with the help of a Rob Sessions, Publishing Consultant, I'm ready to find a publisher.
The work is in easy-to-read, accessible free verse with historical marginalia to set the scene.
Image of Dr Felix Kersten and Reichsführer Heinrich Himmler
Poems from the sequence
Felix wants them to have suffered
2017 NEWS
Next concert: Castlemaine November 4th 4.45 pm. Castlemaine Uniting Church.
Bookings through TryBooking.

Are you interested in hosting a 'Massaging Himmler' House Concert?
Our friends and colleagues have royally supported us by hosting House Concerts. All that is needed is a room large enough to seat around 25 – 30 people, performance space for two and minimal equipment. It makes for an intimate and potent story telling – right in your own lounge room!  It's also is a great way to support the Arts and spread this remarkable story. I can provide all promotional material and ticketing. Contact me for details. 0425 708 274
Habitat Uniting Church, Canterbury, Sunday May 7th, 4pm.

Bookings at trybooking.com
Massaging Himmler, A Concert Flyer
2016 NEWS
In collaboration with the wonderful Blue Harp Productions we have added a stunning audio visual component to the 'Massaging Himmler' concert – making it even more potent and portable. Because venues don't always have a grand piano suitable for playing Rachmaninov, we have recorded Julian playing the Preludes in exquisite style. That soundtrack and footage of Julian playing forms the basis for still and moving images of Dr Kersten, his family, their estate as well as chilling Nazi images. This audiovisual element will be interspersed with Julian and I reading the poems.
Our next outing on November 13th with it will be at the beautifully restored historic Court House in Camperdown. All welcome!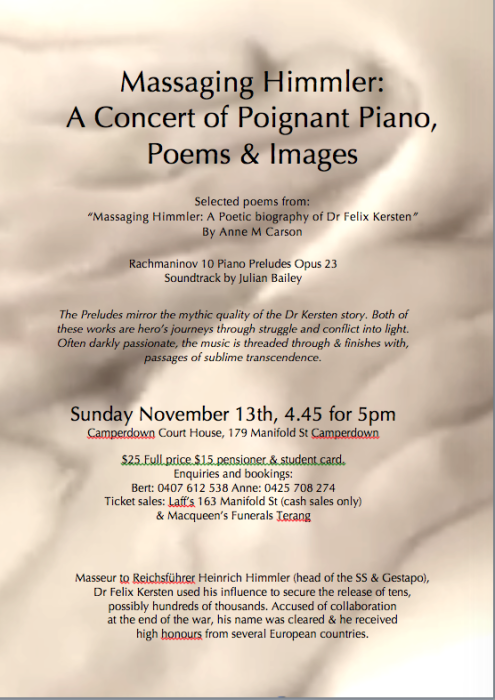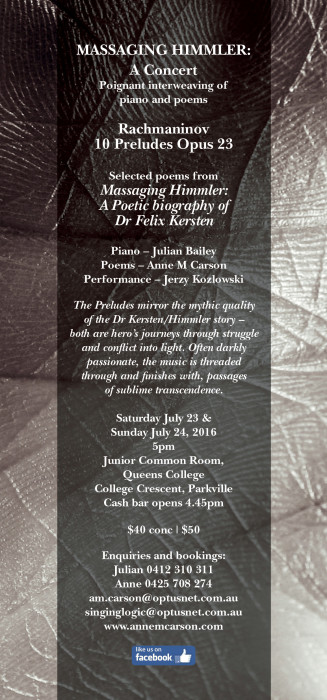 I'm thrilled to invite you to a forthcoming concert combining poems from the Massaging Himmler sequence, alongside the whole set of Rachmaninov Preludes, Opus 23. Because of their complexity, these piano pieces are rarely played as a whole and I am delighted to collaborate with the pianist, Julian Bailey, who has been playing some of the Preludes for over 40 years. The pieces combine passages of sublime lyricism with others of passionate intensity and make a perfect foil for the dramatic sequence of Massaging Himmler poems which will be read by Jerzy Kozlowski.
https://www.trybooking.com/LARP 
Southerly literary journal has accepted Of the 2,700: one voice, a poem from the Kersten sequence, to be published in their forthcoming War and Peace edition.
Massaging Himmler had its debut at the Melbourne Poets Union event entitled On Difficult Poems with Dr Jennifer Harrison in June 2015. An excerpt of my talk In Fear and Trembling is published in May POAM – the MPU newsletter. Thanks to MPU for the chance to share the work.
I am looking forward to the privilege of reading part of the work at the next Jewish Writers Festival in Melbourne 2016.
Three poems have been accepted by The French Literary Review for publication March 2106.
Please email me if you would like be a part of my mailing list to be notified of progress of the manuscript and publication and launch details: *protected email*